Choosing a Rotary Washing Line for your Garden
Getting a rotary washing line set up and working in your garden or yard is a simple operation - but there are a few things worth considering before buying a line to ensure your finally choice if right for your needs.
How big is your family? And how much space do you have in your backyard or wherever you are planing to erect a rotary washing line?
There are a variety of different shapes, sizes and designs of rotary line to choose from including 3 arm and 4 arm version, and also wall-mountable rotary airers - so there really is a device to suit everyone. And if you don't have the space for a rotary device, there's always the option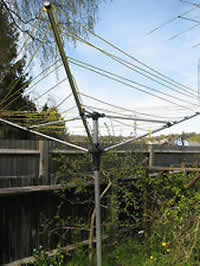 to hook up a retractable washing line on a wall.
The smallest rotary washing line comes with a 1.8 metres turning circle and yet, provides you with an impressive 30 metres of washing line. That's enough clothes line for two people.
If you have a large family and enough suitable space in your garden, a rotary airer with a five metre diameter and 58-60 metres of line space should be perfect for your needs - it can cater for between 3 and 6 people.
The materials used in rotary lines are usually combinations of aluminium for the hoist pole and plastic-coated polyester for the lines. Some hoists are made of high tensile galvanised steel, with around 22 polyester filaments, braided and sheathed in UV protected plastic casing for the lines.
As impressive as that sounds, any washing line, rotary or otherwise, is only as good as the lack of strength of the wind trying to rip it off its base! So it's prudent to take a bit of time to search around for a top quality durable and strong rotary line which will stand the test of time.
Powder-coated tubing is a must on a rotary line to ensure it is rust and corrosion resistant and doesn't tarnish in the UK's traditional wet winter weather.
Other things to watch out for are whether you will require extra tools for line tensioning (although generally you won't) and whether the plastic that is used is premium grade - if it's not the rotary line could end up looking quite shabby in no time.
You should also consider whether there are any exposed fasteners on the line as these are undesirable and unsafe. It's also important to confirm that latching and de-latching is easy and intuitive on the line you are interested in. You don't want any hassle when you lock or unlock the mechanism each time you use the line.
Try to buy a rotary line what comes with a ground spike or socket - this will be tailor-made to accommodate that specific model of airer, and will save you have to search around to buy one separately
It almost goes without saying - but you should ensure the line you plan to buy features arms which fold upwards compact and tidily, to enable the device to be comfortably fitted with a protective cover when not in use. Those with a reliable winding handle usually help you achieve this.
If space is very limited in your garden or you just don't want a permanent rotary line, then you could consider buying a folding airer - this looks similar to a standard rotary line but it can be folded down easily and stored away.
Opt for a Rotary Line with a Lengthy Warranty Term
The length of warranty is always in indicator or how confident a company is in the quality of it rotary airers - so look for one with a five or 10 year warranty. Consider the terms of the warranty - there may be ambiguous clauses like 'against manufacturing defects', but how do you interpret manufacturing defects after, say, nine years of use? Reputable retailers are reputable for a reason - so try to buy from one with a good track record for giving customers a fair deal.
You should also consider buying a protective cover for your rotary line, if it doesn't come with one already. These will keep you rotary airer in tip-top condition when not in use. Covers come in pretty designs and various colours and don't cost the earth, so, definitely consider getting one.
Another handy rotary washing line accessory is a rain cover - these are useful for protection against bird droppings and even allow you to dry your laundry in light drizzle. Kids can even have some fun playing under a cover and the overall appearance is similar to a garden parasol.
There's one thing really must need to check out with care and that is the rotary line pole diameter. Remember that as the entire line gets bigger, it takes on more and more load as it is designed to do. And wet clothes and other laundry items are heavy! Any company that takes this into account and increases the pole strength accordingly is worth their salt in our book.
A decent manufacturer will have given careful consideration to centre pole strength to ensure it's made from extra strong material or has an extra large diameter if it's for a large line that will carry a considerable amount of weight when loaded up with wet laundry.
During the summer months there is no good reason to not take advantage of the sunshine and dry your clothes outdoors the economical way on a rotary washing line - and you'll be cutting your electricity bills also by avoiding using a tumble dryer.
Admittedly there are many times in the year, when it's just not possible to dry clothes outdoors in the UK - we get our fair share of cold, wet weather - and occasionally snow and ice. This leaves with no option, other than to resort to an indoor air or the power-hungry tumble dryer. But unfortunately there's nothing we can do to change the weather - so it's a case of making the best of the days when it's dry,windy or warm days outside, and doing as much line-drying of laundry as possible.
Before we wind this up, have you ever come across a rotary washing line with its lines tangled? Well, it's not a pretty picture. Small things matter, and the use of a velcro strip that secures both the clothes line as well as the rotary arms when not in use can go a long way to reducing a lot of headache.
Again, a rotary line manufacturer that cares enough to think of such small, but useful, additions is probably listening to its customers and aims to be in business for a very long time.
If space is limited in your garden or you don't like the idea of an upright rotary hoist dominated the available space, you could consider buying a wall-mounted folding laundry airer. These are made from aluminium or steel and look very similar to a standard rotary line when extended. They do no revolve - the user simply pulls a handle outwards to erect the line and pushes it back in towards the wall to close after use.
Finally - don't forget you have also have option to buy a portable folding rotary airer if you don't really fancy having one installed permanently in your garden. These moveable lines are handy for anyone who prefers mainly using a tumble dryer or clothes horse indoors and just wants to dry their laundry outdoors occasionally on a dry or breezy day.